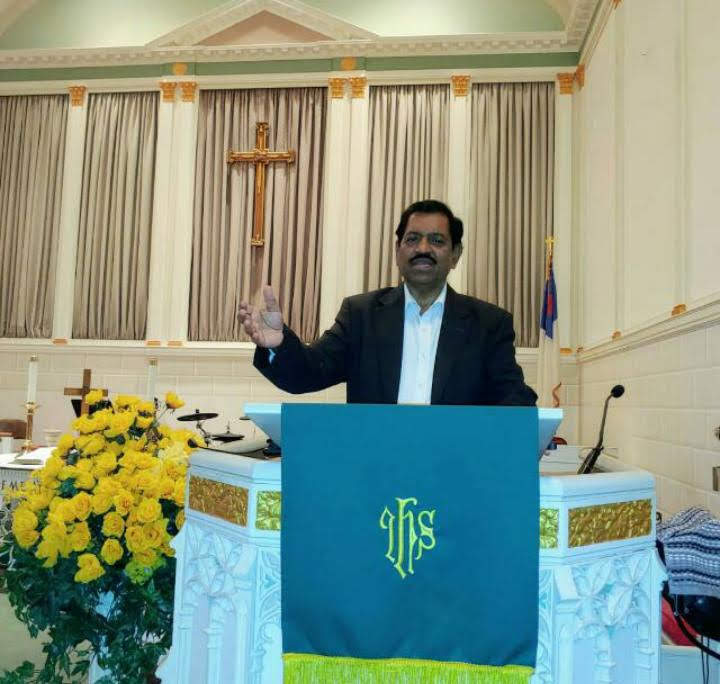 ABOUT PASTOR MOSES PANDIAN
"The people that sat in darkness saw great light." Matthew 4:16
I was born in a Hindu family in a small village. I was so religious and loved God. I worshiped many gods in the form of Idols as my parents and villagers did. I happened to study in a Christian School and came to know the name JESUS. For no reason I started loving the name " JESUS" without knowing that He is the son of God and God and He came to this world to redeem me from sin. I kew only His name.
A day came; I was forced to call upon His name" Jesus" for help. A lady was shouting at the top of her voice and crying with agony because of her stomach pain in a night on a street amidst the crowd of my village people. I was one among them looking at the lady with compassion and wanted to help. I was about 14 years old. Neither doctor nor medicine was available at the late night around my village.
I felt very sorry for the lady and wanted to help her, I went in to her house and took a glass of water. I looked upon Jesus and said, " I am giving this water to this lady. Please heal her." She drank the water and said " O God.! My pain has gone away. I like to know the name of the medicine." She even offered money to buy the medicine as she used to undergo such a worst pain often. It was a miracle that Jesus did at that night among the villagers who never heard the name JESUS. The fact was that I did not know that Jesus is a healer and had no idea,what made me to do that. Now I know that it was the spirit of God lead me. It was God's favor.
It was His mercy that I found favor with God and seen changes in my life, in my studies,in my job and even in my marriage. In everything, I could see God's hand and miracles. I got married with a Christian girl ( arranged marriage) with no objection from my parents and the society. I remember the word " If God is for us,who can be against us? -Romans 8:31 I was blessed in my family, in my village and in the society. I enjoyed God's favor in every walk of my life and even today. No one preached me the Gospel. But God set me apart from my people and community(Hindu) to bless me and take the Gospel of Jesus to my people and others. We built a nice Church in our village and used to have open air meeting often. Many came to Jesus and the church became full now. I thank God for His calling. Even though I was not worthy because of my sinful life, God's mercy was upon me. I was a junior engineer in Telecom and worked as a manager in a Bank with all favors from the Chairman, General Managers and even with Board of Directors. Had a wonderful life with all worldly blessings. But I was not happy. My desire was to earn more money honestly and do charitable work for the glory of God,who loved me so much. God opened the way to go to Dubai to start a business for an unknown people. I resigned from the Bank, trusting in Jesus Christ and doing the business for 4 years. The great favor I received from God is not money in Dubai but SALVATION. It was a great joy for me. I felt that I am no more slave to sin but to Jesus. I received the Holy spirit and God's gift of prophecy and healing. I was used by God only few times for the glory of God. I was not a minister of God in Dubai but a servant to take the Gospel in my free time. One day I spoke to God about my desire to go to USA.. It took only two days for God to answer and windup the business in Dubai and moved to USA in two months. God is so awesome and loving. He gave me all comfort and blessings in USA. I started sharing the Gospel of Jesus Christ to known and unknown people in USA. I used to visit India often to do God's work in villages. God used me to preach,heal and cast demons. We could able to build few churches in villages in Tamil Nadu. My priority in the ministry is to bring souls into Kingdom of God. Hundreds of people received Jesus through the Baptism of repentance for the forgiveness of sin and Saved. Glory to God. Even though I did not have any desire to serve God as a Pastor, He appointed me as Pastor to take care of His sheep. I was ordained and anointed by God even before I start working as a Pastor. There were miracles in every thing in my life and I could see that God's hand is upon me. I am serving as pastor of Love of Jesus Family Indian Church since 2003 in US.
Even though I started loving the name Jesus Christ at the age of 14, I became a Christian when I was 29. I believe that no one lead me to Christ but God. I am so fortunate to love Christ and to be obedient. I can do all things through Christ for at the name of Jesus EVERY KNEE WILL BOW, of those who are in heaven and on earth and under the earth, and that every tongue will confess that Jesus Christ is Lord, to the glory of God the Father.